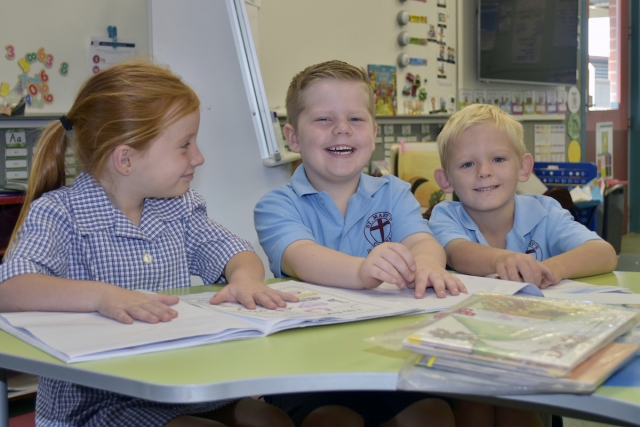 Our Enrolment Process for Prep's 2023
St Mary's Cohuna
Thank you for considering our school. Please feel free to contact the school if you have any questions pertaining to enrolment. Families are welcome to visit the school several times leading up to starting school.
Please refer to the process below outlining enrolment from here.
Explore the information available in our St Mary's 'All About Us" and our website.
Visit our open evening and school tour to learn about the St Mary's story on the 5th May 2022 @ 7pm.
Take part in an Enrolment Tour - Tuesday 14th & Thursday 16th June (9am - 11am)
Decide on the right school for your child.
Submit your First Stage: Application for Enrolment as soon as convenient. A Second Stage: Enrolment form will be sent to families once the First Stage: Application for Enrolment has been received.

Schedule a Family Meeting and Active Tour during the week 16th - 20th August 2021 (Parents & Child to attend)
Enrolment forms and accompanying documentation must be submitted to St Mary's by 27th August 2021. Feel free to bring documentation to your Family Meeting.
An official 'Welcome to St Mary's,' pack will be sent to families as of the 7th September 2021 outlining Prep Transition, uniform, information and celebration about starting school
Transition to St Mary's will be held in term 4 for ten sessions. The sessions are progressive in duration and this information will be included in your 'Welcome to St Mary's' pack.
Term 1 of 2023, Prep Learners will attend school 4 days a week for the first 4 weeks of school. Full time attendance will occur as of Week 6. Wednesday is the day of rest for the first four weeks of school!
Selecting a school for your child, is one of the most important decisions a parent makes. We thank you for taking the time to consider St Mary's Cohuna
Download you Information eBook here Information eBook
Download our Enrolment Form here pdf Second Stage Enrolment form (872 KB)
Download our Application for Enrolment here pdf First Stage Application for Enrolment (713 KB)
Download our Enrolment Policy and Procedure here pdf Enrolment Policy (516 KB)
Download our Fee Collection Policy and Procedure here pdf St Mary's Fee Policy & Procedure (412 KB)
Download our St Mary's Learner Attendance Policy here pdf St Mary's Learner Attendance Policy (870 KB)
Download our Attendance Monitoring Policy here pdf Attendance Monitoring Policy (287 KB)
Download our Shared Behaviour Expectations of Conduct Here pdf Shared Behaviour Expectations of Conduct (260 KB)
Download our Student Behavior Policy here pdf St Mary Student Behaviour Policy (559 KB)